The night sail from Almerimar to Cartagena weather and sailingwise for the most part pretty uneventful: there were a few ships along the way that we had to keep an eye on but thanks to AIS you could see well in advance where they were and in which direction they are going.
Just after sunrise, there was an incredible moment where we saw something huge leaping out of the sea: it was too big for a dolphin (we could see that, even from a considerable distance), it must have been a whale! We saw it jump again and also saw it spout water out of it's blowhole – definitely a whale. It disappeared as quickly as it had appeared so there was hardly an opportunity to take a photo, and anyway I was too much in awe to take my eyes of it in order to try to find the camera.
Since we had left Gibraltar, we had several times seen the depthmeter do funny things – as in suddenly indicating a really shallow depth of a few meters when we were clearly in very deep water. Jon had jokingly said that this was perhaps caused  submarines. Perhaps there was some truth in this because on our approach to Cartagena we very clearly encountered a surfaced submarine.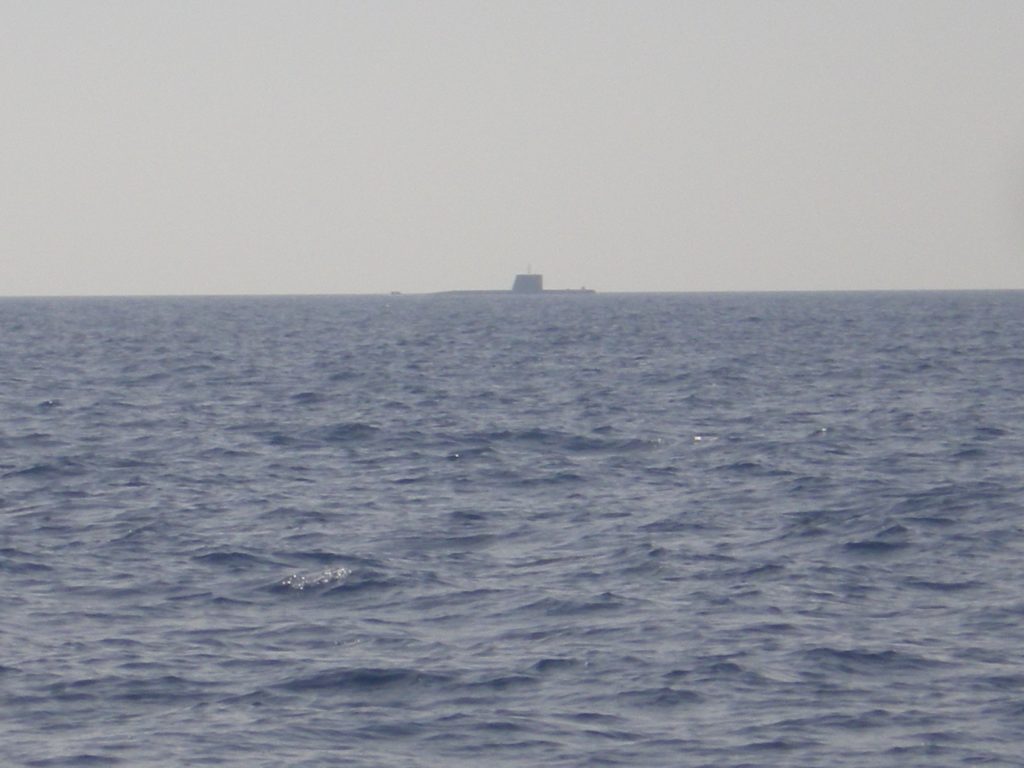 On approaching Cartagena marina Goodvibes was for the first time – as far as we know at least – called on the radio. A huge freight ship was just about to leave the harbour at the same time that we were entering it. We had already seen it on AIS and while Jon adjusted our course to make clear that we were not going to be in it's way, I answered the radio. They probably saw our course change and considered it sufficient because they didn't answer us on the VHF. Good to know that they are keeping an eye on little sailboats like us though!
In Cartagena
The marina in Cartagena is right next to a very modern boulevard, with, amongst other buildings, a subaquatic archaeological museum (which we didn't visit) and a Burger King (which we did visit). The main street of the town is a very convenient 10 minute away and we used the few days that we were there mainly to provision and buy some other stuff that we had on our list. The best purchase was no doubt a waterproof, shockproof bluetooth speaker for the cockpit! We have already used it a lot.
After all the boat maintenance in Almerimar, we didn't have a lot of energy to check out more of Cartagena. There are some archaeological sites, including an Roman amphitheatre dated 1st century AD, but we were quite happy to spend some time sleeping late and not having to do anything or go anywhere.
Cartagena really had a very nice feel to it: it was clean, modern – but with well restored old buildings, and in general really pleasant. It's obvious why a lot of cruisers use it as a stopover on the way from Gibraltar to the Balearics and vice versa.
Anchoring in Mar Menor
So far we had only stayed in marina's. It was about time to get some experience anchoring because definitely in the Balearics and other populair places we would have to anchor because the marina fees can be extortionate, especially in the summer. Just northeast of Cartagena lies a coastal lagoon called Mar Menor, which can be entered from the Mediterranean Sea via a short canal with a bridge. With a surface area of 170 km2 and a maximum depth of 7 meters, it is an ideal place to practise anchoring.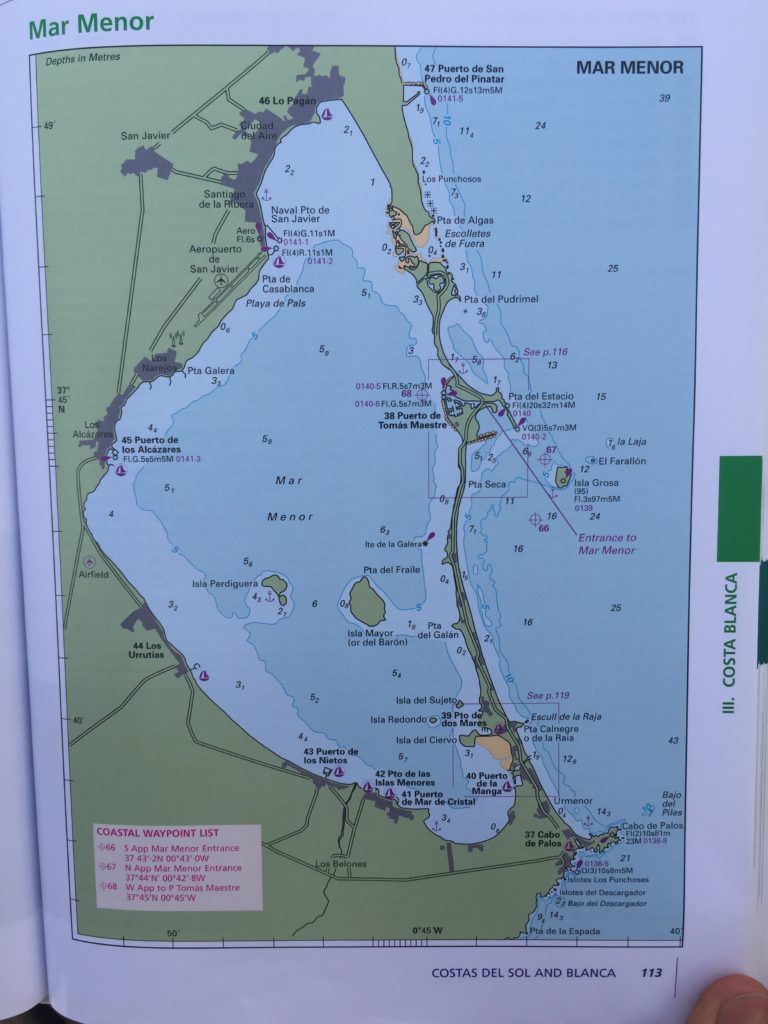 We left Cartagena with a nice wind on our port side bum and managed to sail for about an hour doing well over 6 knots. We then had to change our course to more northeast which meant we were now facing the wind, and on top of that the waves were also on the bow. The next few hours were therefore pretty bumpy and on the engine. Once we turned north, around Capo Palos, we could put out the sails up again, right up to the entrance of the canal.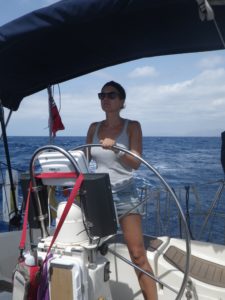 There was some conflicting information about the opening times of the bridge to enter Mar Menor: some books said it was every hour, other books said every two hours. We contacted the marina which was located just past the bridge for clarification, and they advised us that the next opening would be at 6pm. It was now 4.30pm so we had to anchor outside of the canal for an hour and a half. We pulled up anchor around 5.50 so we would be ready to enter the canal. Five minutes before the bridge opened the bridge control tower announced this on the radio and immediately a lot of ships turned into the canal, so we just followed them. Once past the bridge, and into Mar Menor, we decided to head for one of the little islands in the south to anchor at their southwest side so we were sheltered from the north/easterly wind. The anchor was holding pretty well and we didn't have a lot of swell so Mar Menor turned out to be a pretty good place to get used to life at anchor.
We had heard that Mar Menor was not the cleanest place and that there were lots of jellyfish. Indeed: you could see schools of white and brown jellyfish and according to wikipedia it was deemed polluted in 2016 and the beaches could no longer fly the blue flag. Regardless, we swam a little bit (as did a lot of other people): as long as you didn't stay in too long and you avoided the jellyfish it was very refreshing.
For us, it was a great location to expand our horizon beyond marina's. It was very safe and protected from wind and swells and we enjoyed taking the dinghy out and not being able to (and therefore not having to) go out journeying for boat parts or provisions. It was more the kind of cruising life we had in mind.