Our third crewmember is a dog. Ok, granted, she's not bigger than a cat but she's still canine and comes with all standard dog behaviour such as barking, wanting to lick your face and not being happy when a member from the pack is missing. Since we became liveaboards on our 35 feet bavaria and especially during the last 3 months which we spent cruising the Spanish southeast coast and the Balearics, Jon and I are not the only ones who have had to make some adjustments. Our Puppy also had to deal with rough seas, being at anchor for days and being 24/7 in our company. She has taken it all in her stride and I can honestly say that she seems very happy with this new lifestyle – as are we. Here are some of our experiences of what it's like to take a dog cruising on a sailboat.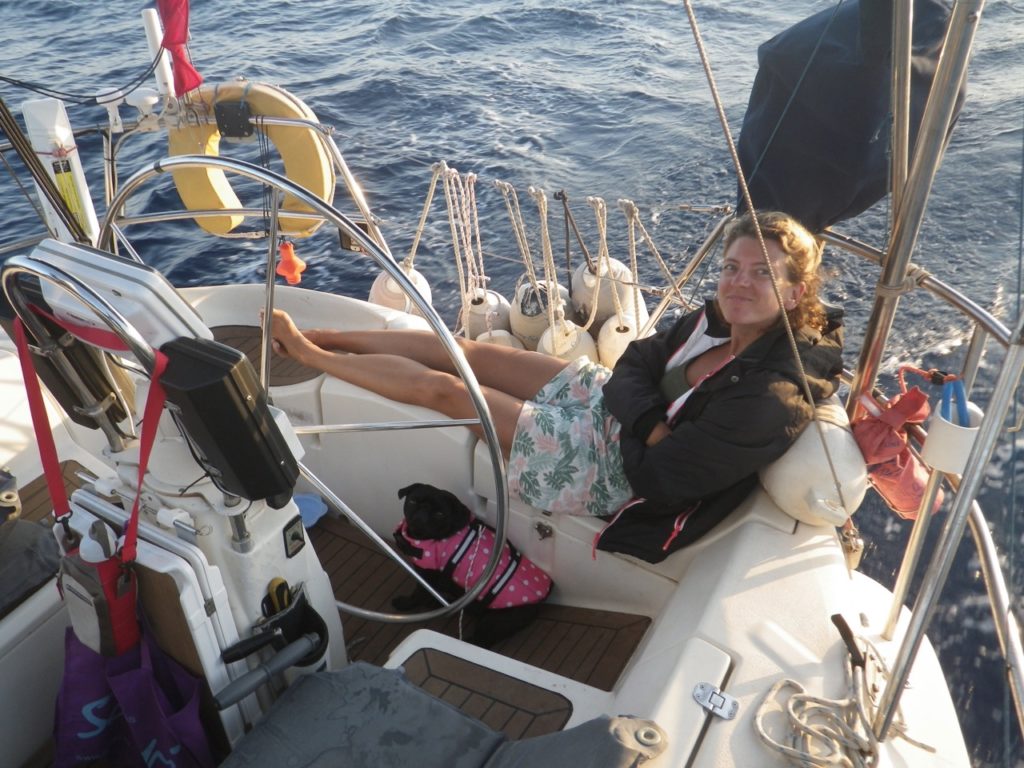 Puppy's history
When we were living in a 3 bedroom house, only a few years ago, we considered getting a guard dog or even two. For various reasons that never happened and we had slowly moved on from the thought of getting a large dog to a smaller dog: a pug to be precise. Since the movie Men in Black I had a soft spot for pugs, and in particular black ones – rarer than the standard fawn variety. We heard about a litter of pugs in Gibraltar and when we visited, one of the small black creatures immediately stole our heart. Once she was weaned and ready we could pick her up and very soon she had settled into her new life at our house.
We struggled finding an original name for her and eventually we settled on Puddles (as she would leave little puddles behind before she was properly toilet trained). However, the name never stuck and because from the beginning we had been referring to her as 'the puppy' ("Where is the puppy?") we still call her Puppy.
2 years later we moved onto Goodvibes in the marina, where we lived for about a year. This is quite important, because it meant Puppy could get used to her new living environment while still being walked 2 or 3 times a day. We also started part of the toilet training on board.
Puppy is now a healthy 3 year old who weighs about 9 kg. She is no longer as wild as in her younger years and spends most of the day snoozing, but still has bursts of activity when she loves to play with the ball or runs around while we pretend to catch her.
Food & drink
Puppy's food and drink bowl is a very basic plastic one from a chinese shop. It fits on the foot space area for the chart table. This does mean we can't put our feet there when sitting at the chart table but we rarely sit here anyway (we normally stand when filling in the logbook on the way and look at charts on our dining table) and if really necessary you could still sit on the seat but you have to position your legs sideways.
90% of Puppy's meals consist of kibbles. We bought a couple of 1.5 kg bags before we left cruising and we haven't had to worry about it since. Every week or so we fill up a tupperware from the bags, stow the bags in one of spare berths and keep the tupperware in one of the saloon lockers for day to day access. In addition we have a handful of wet food pouches in our food cupboard,which she gets maybe once a week, and some treats (dentastix etc.) We also noticed that nearly all corner shops/mini supermarkets offer dog food. As she was not raised on one particular brand of kibbles it shouldn't be a problem at all to get new food when this runs out.
Recently she has gotten on to the fact that I may give her something when I'm cutting up a piece of fruit or raw vegetable in the galley. They are very little pieces and only food that is suitable for dogs (apple, melon, carrot etc.). As a consequence, she now runs to the galley whenever she hears something being cut. She doesn't actively beg (because we normally never give her food while we are eating) but nevertheless most of the time she does get away with a little something.
A new thing, which has only happened in the last few weeks, is that she jumps on the (folded) dining table when we have left something edible. She only does this when we are not around, and her biggest loot so far has been 2 Tuc biscuits. Still, from now on we are careful we don't leave anything edible on the table.
Drinking is easy: we make sure her bowl under the chart table is always full of fresh water. Since it is in a spot that we pass and see several times a day it doesn't often happen that it runs empty. We have a separate plastic bowl that we leave outside in the cockpit when we are at anchor or in a marina.
Toilet training
The big issue! How and where does the Puppy go to the toilet? Well, luckily we had some time in the marina to practice before we went cruising. We bought a plastic tray (about 50 x 30 cm) and put it on the floor in the port aft cabin, on a piece of plastic. In our house she had a few weeing 'accidents' on the bathmat in the bathroom, so we took this with us on the boat (washed, obviously) and cut it in two to fit in the tray. The reasoning was that if she preferred that as a pee-spot in the house then it would be a good pee-spot in the boat too. And it worked: she had no problem going in the tray.
There are two consequences for us though: 1. We have to keep the door to this cabin open or she will not be able to access it. This is not a major issue as we use the berth for storage, not for sleeping. It also means we cannot not sit at the little seat for the chart table, but as mentioned earlier, we hardly use it anyway. 2. We have to wash or at least rinse the mats that the Puppy uses quite frequently as dog wee smells! In the marina, with sufficient fresh water, I put them in a bucket with some laundry detergent and sometimes a bit of bleach when they have been used once or twice (in practice that comes down to almost every day). After a few hours, I rinse the mat off in the sink in the galley and hang it outside on the lifelines to dry. Not fantastic, I know, to be rinsing wee-soaked cloth in the kitchen sink, but by this time the detergent and bleach have done their job (or so I hope) and I always clean the sink and kitchen counter afterwards with a bleach/water mix.
At anchor or on the way, I use seawater to execute the same process, including the rinsing. As we've been having bright sunshine and very little rain for most of our journey, the mats dry in a few hours and the heat from the sun burns off any nasty smells that may still linger.
Poo is a different story. In the marina she would save up her pooing for walks. Even if I only walked her once a day instead of the normal two or three times (due to bad weather or not having time) she would never poo in her tray. What she would do occasionally, mainly at the weekends when we had a lie-in in the morning, was poo on the floor in the galley. This would only be once or twice a month, and definitely only as a last resort. Once we started cruising we continued to encourage her to poo in the tray, but to no avail. I guess dogs like to have 2 different places for doing their business, so that didn't work.
At the beginning of our trip, when we stayed in marinas rather than at anchor, she would simply hold in her poo until we were at dry land. I think the longest she did not go for, was close to two days. She did not seem overly uncomfortable but obviously this was not good for her.
We tried to make her go on deck: we bought a piece of astroturf (recommended by some people) and put it down outside, but despite our chants of 'come make a poopie' she would not. Until the day we left Estepona marina: while we were talking ashore to one of our friends who was seeing us off, she did a poo on the deck! Ofcourse not on the piece of astroturf but right next to it. However, this was a good development. Now, when we are at anchor and we can't take her ashore with the dinghy, we specifically let her out on deck after breakfast and after supper and most of the time she knows what's expected of her. Again, it may sound a bit gross, having dog poo on your deck, but to be honest it is normally pretty 'solid' and easy to throw overboard (in busy anchorages we throw it in our heads so it gets macerated) and a quick wipe with a wet kitchen towel takes care of all the evidence.
On a passage we don't let her walk on deck (see Safety Measures further down). Our longest passage so far has been less than 24 hours so most of the time she simply doesn't go for number two's. She still sometimes goes downstairs in the galley so we hope that when we do go for longer passages, if it becomes too uncomfortable for her she will just go there.
Walks and exercise
I believe this is the area where she has had to adjust the most. Even though she sleeps almost the entire day she has a period around 5 pm when she gets very active and loves to run around and play. Fortunately, as she is so little, Puppy still manages to get some exercise even on our 3m by 1m floor. She has several tennis balls which we throw and, if she feels like it, are being fetched. Still, it doesn't compare to running around on solid ground and therefore she gets terribly excited when we prepare the dinghy or moor along a quay because she knows there is a chance she will be taken for a real walk. In populated areas we keep her on the leash but in remote places we let her run around freely. Never for too long though, as she wasn't built for athletic and starts breathing heavily after a few minutes of exercise – even sooner when it's hot (which it has been most of our journey so far).
At anchor or in the marina we often let her run around on deck. She hasn't fallen off the boat (yet) although there have been several heartstopping moments when she scrambled furiously on the uneven surface to fend off passing SUP-boarders or low flying birds. Again, luckily she doesn't need a lot of physical activity to get tired and a lot of her time on deck is also passed snoozing behind one of the jib sheet winches.
Sleeping arrangements
When we moved on to the boat, we were conscious that the Puppy needed a safe space, her own hidey-hole for when there were scary noises or movements. There weren't many options, but the floor space beneath the table, in between the two table legs, seemed just big enough for her. I sewed a little bed that fitted perfectly and after a short adjustment period she accepted this as her bed. The bed didn't last long – some other dogs at a dog caretaker destroyed it while Puddles was 'on holiday' – and I didn't feel it was worth making one by hand again, so I bought a new one from the pet store. It's black and furry so when it's dark you can't see the puppy at all, you only see two shining eyes peering at you from under the table.
When we were still working she was only allowed to sleep on our bed at the weekends. But when we started cruising every day was a weekend, so gradually this routine has changed to sleeping on our bed most of the nights. As we sleep in the v-berth with roughly 40 cm of width at our feet and 1.90 m at our heads, it is a bit of a squeeze!
During the day she normally doesn't sleep in her or our bed but sits on her throne (a pile of cushions on one of our salon couches), or sleeps on the floor. Especially in the summer she prefers the wooden floorboards as they are cooler.
Safety measures
Puppy won't be able to swim for more than few meters – if that. In our swimming pool she would just manage paddling to the corner where the steps were located, but in a sea with waves? No chance she will get far. So we bought her a life vest. Initially she wasn't keen on it, but now she doesn't mind wearing it, in fact, she gets very excited when we bring it out because it means that either we are going in trip in the dinghy (ashore!) or she can join us sitting in the cockpit while we are underway. We got the life vest locally in Gibraltar and are very happy with it: it is the right size, very sturdy, the handle at the top is great for transferring her from the boat to the dinghy, and she looks very cute in it!
At anchor or in the marina we don't put her life vest on. As she hasn't fallen in (yet) there seems to be little need for it. Most of the time when she is outside one of us is with her, or at least we check up on her very frequently.
In the dinghy she always wears her life vest. When we are sailing or motoring and it's safe for her to join us in the cockpit, she wears the life vest with a tether (about 80 cm long) that we attach to one of the strongpoints. At these times she is not allowed to go on deck or even sit on top of the cockpit; only on the seats or the floor. We only take her up in the cockpit when we are out of the marina/anchorage, the sails are set or the engine is on, and we are comfortable with the weather and the circumstances. When the sun goes down, it's also time for her to go inside.
Medical and health care
As we had planned to go to the Caribbean on the short term, we checked with the vet that her injections were up to date (which they were and anyway, our plans have changed and it looks like it may be a year later before we venture out that far).
We also bought some got medication from the vet in case of emergencies:
Omeprazol Cinfa (gastric protector)
Calmivet (to avoid vomiting)
Carprodyl (anti inflammatory)
Nisamox (antibiotic)
Metilprednisolona(anti inflammatory and for use by severe allergic reaction) + 4 syringes to administer
We also bought a collar called Seresto which protects against fleas and ticks. Puppy wore it for about a month and a half but seemed to irritate her (and also it looked very ugly) so we took it off. A lot of her fur underneath the collar had disappeared so we are not planning on putting it back on. We'll probably regularly buy some over the counter anti flea stuff.
Regarding seasickness: we haven't noticed Puppy feeling sick or nauseous in rough seas or heavy swells. Perhaps at longer passages and with prolonged heavy weather she might start to feel uncomfortable but in that case we have the medication. At least we know that she handles normal boat movements without any problems.
So is the puppy happy on board?
I can honestly say that we think the puppy is very happy onboard Goodvibes. Sure, she doesn't have as much space to run around and does not go for walkies as often as she perhaps wishes, but she is with us almost 24/7 – and believe me: she gets a lot of attention. When we are underway and she is not allowed in the cockpit she lies on the saloon floor and looks quite sad, but as soon as she can come up in the fresh air with us she is 100% content and chilled. So the sailing, or the engine noise, or the heeling over does not seem to bother her at all: all she wants is company. And compared to when we were both working 40 hours in an office, she's getting an awful more of that. On the other hand, she is used to being left alone as well, so we can easily leave her for a few hours on the boat while we go shopping or whatever else we need to do – so she does not really restrict us too much in what we do or where we go.
I do believe it was a big advantage that we lived on the boat before we started cruising. That made the transition a lot easier (for us as well, by the way) and meant that Puddles could gradually get used to her new environment and lifestyle. It is also a big advantage that she is relatively small and manageable. She cannot get up the companionway stairs by her own so we can control whether she stays downstairs or upstairs. She is also easy to pick up and carry. And of course everything else is smaller: the bags of dogfood, the space she occupies, the number two's she creates… But her love is no less than that of any bigger sized dog. The puppy is a full member of our crew and takes an active part in our adventurous and exciting experiences. Without her our cruising life would be a lot emptier.