The distance between Ibiza and Mallorca is about 50 nautical miles, which is a nice daysail. We did not have enough wind so we ended up keeping the engine on for most of the journey. So far this year we have been able to sail quite a lot, so we didn't mind so much. We headed to one of the most touristy places on Mallorca: Magaluf. Not to join the British and Northern European tourists who go there for pints and clubs, but because it would give us good protection against the southerly swell.
Magaluf
When we arrived in the anchorage around 8pm we struggled to get the anchor to hold, even though the bottom appeared to be sand. Perhaps it was very loose/rocky sand so it would not set? After 3 tries it was set and we guided in s/y Wilma. They also struggled with the anchor and it would take them 1.5 hours before their anchor held solid. By then we had already gone inside and to bed, pretty knackered after a long day.
The next morning we investigated our surroundings. The coast looked reasonably built up but not with as many high-rise buildings as some places on the Costa del Sol. We could hear music in the distance and there were various fun rides ('banana rides' etc.) in the bay but it was not a major nuisance. We also explored the land and this gave the same impression: yes, it was touristy but it was not horrible. I actually quite enjoyed a bit of people watching and soaking up the holiday atmosphere for a short time.
Santa Ponsa
2 days was enough of that though, and onwards we went to Santa Ponsa. This a relatively large anchorage in front of a pleasant town with a reasonably sized beach. We had anchored there last year too so we knew it already, and we were also keen to check if we could get some water in the nearby marina. If we could not, our backup plan was to check into Soller marina a few days later.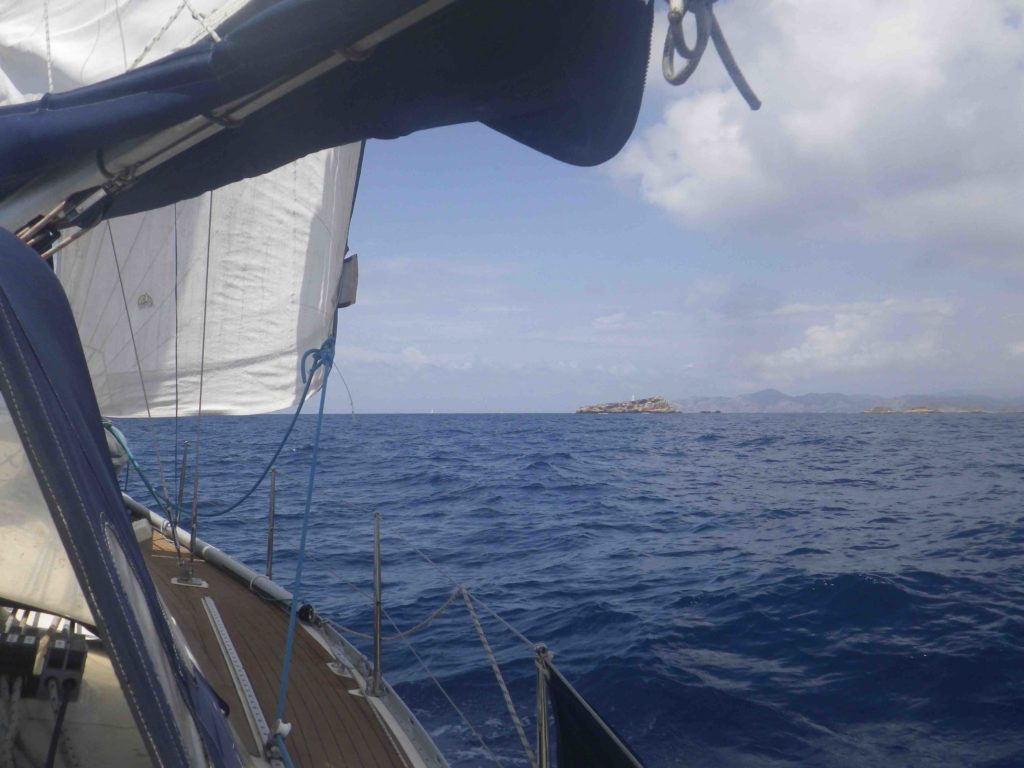 It was only a short hop, in total 3.5 hours, to Santa Ponsa. Here, we also had re-anchor a few times, this time because initially we ended up too close to other boats. An additional complication was that the connection for the windlass remote had some moisture in it, which caused it to malfunction occasionally. It would not always respond immediately after pressing the button to haul up or lower down the anchor, which was just an inconvenience really. What was more worrying was that it would sometimes start letting out more chain all by itself! Fortunately it didn't decide to pull up the anchor on its own – that could have been a disaster – and after a quick clean and check by Captain Jon it was behaving itself perfectly again.
We put the dinghy back in the water and tried to find a good spot to take the puppy ashore. This was not so easy: most of the shore seemed to be private land. We found a concrete pier on the north-side of they bay in front of some hotels. There were no signs or partitions so we assumed it was public walkway. Unfortunately it was literally all concrete… there was no patch of grass or sand for the puppy to enjoy. We carried her past the holiday makers on their sunloungers. Thanks to her increased excitement she now sounded like she was having an asthma attack, so we decided to abort the mission.
Our second day in Santa Ponsa we drove the dinghy up to a little beach in Calo d'en Pellicer. This time we didn't bring the dog, which was just as well as she would not have been allowed on the beach. First we had a fantastic breakfast in honour of Cat who would be leaving us that day. For €5 you could get a baguette with lomo (a slice of pork meat), egg, bacon, tomato, ham and cheese… The men particularly were in meat heaven!
Then we went for a little wander around Santa Ponsa. As expected, this place was also a little it touristy but in general it had a very nice feel to it. There was a long street with various shops so we made the most of a huge Eroski to buy a few essentials (coffee for us, very important…).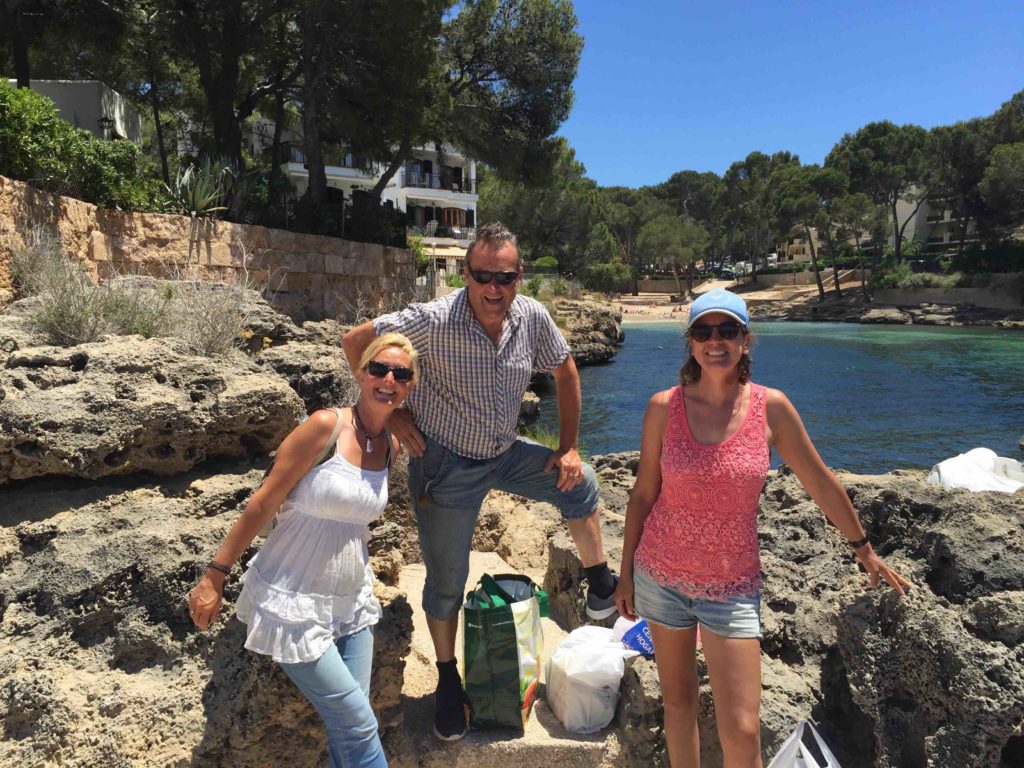 Soller
Before leaving for a 30 nm trip to Soller in the middle of the west-coast, we checked out the marina in Santa Ponsa. The fuel dock was open and it also provided water: 45 liters for €1. While Jon filled up, I threw out our garbage and took the puppy for a quick walk. After filling our watertanks and the jerry cans from Susan and s/y Wilma – which we picked up the night before – we still had some liters coming out of the tap so we rinsed off the deck and the cockpit. What a successful start of the day!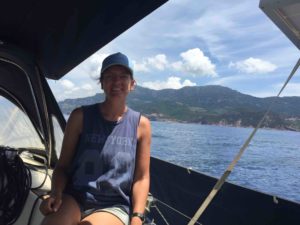 Our luck didn't continue though. According to the forecast we were supposed to have a nice 10 knot wind behind us after passing the turning the south-west corner. As soon as we passed the narrow passage between the mainland and the island Dragonera, we got indeed a solid wind and were sailing along with over 5 knots. It didn't last though. Pretty soon the wind completely disappeared. We could see that Wilma, ahead of us, had gone 4 miles out of the coast so we thought perhaps we were experiencing coastal conditions and they had found wind further out at sea. We sent them a message on Whatsapp and they quickly informed us they had no wind either. So we continued hugging the beautiful rocky coast on the engine.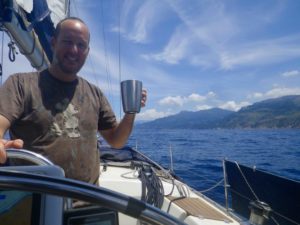 There aren't many anchorages on the west coast of Mallorca and the town of Soller is quite an attractive place, so that is where we headed for. The approach to Soller was amazing: houses dotted on the rising hills in front of Mallorca's highest mountain range. The anchorage looked pretty busy though. We threw out the anchor, with quite a lot of anchor chain as it was quite deep, and we ended up close to a boat behind us. We contemplated our options for a few minutes while Wilma was doing the same. We hauled up the anchor, drove over to them and agreed to find an alternative anchorage instead.
Cala Tuent
It was only 6pm so we still had a few hours of daylight to find a quieter place. After consulting our pilot books and Navily (an app with anchorage and marina reviews) we set off to Cala Tuent. As often in life: when you don't get what you aim for, you get something else that is even better. Cala Tuent was beautiful and there was only 1 other boat. It stayed deep quite close to the edge so we had to throw out a lot of anchor chain (40 meters). Once we settled in we had sundowners with our friends from Wilma on Goodvibes. And what a fantastic sunset it was.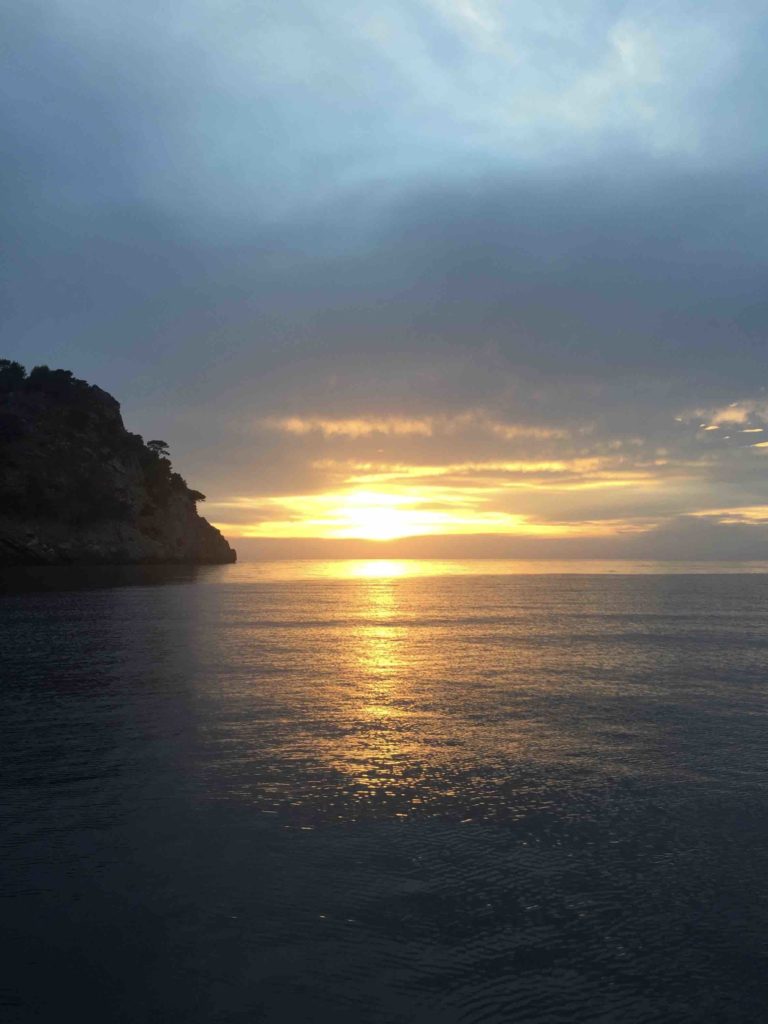 The following night we found out that Cala Truent is not always so serene and tranquil as it had been so far, but more about that in the next blog post.