At the anchorage in Almuñecar, we were satisfied our anchor was not dragging, but the wind was considerably stronger than we expected. At 8 to 9 knots it produced a considerably swell and the boat was rocking from side to side. Combined with this being our first anchoring we didn't anticipate a good night's rest. In fact, we where contemplating sleeping in shifts so we could keep an eye on everything. After dinner, while we were talking this through, Jon suggested that if we were doing shifts anyway, we might as well go underway as it would be more comfortable than being in a roly anchorage. So we decided to get going and do our first overnight passage!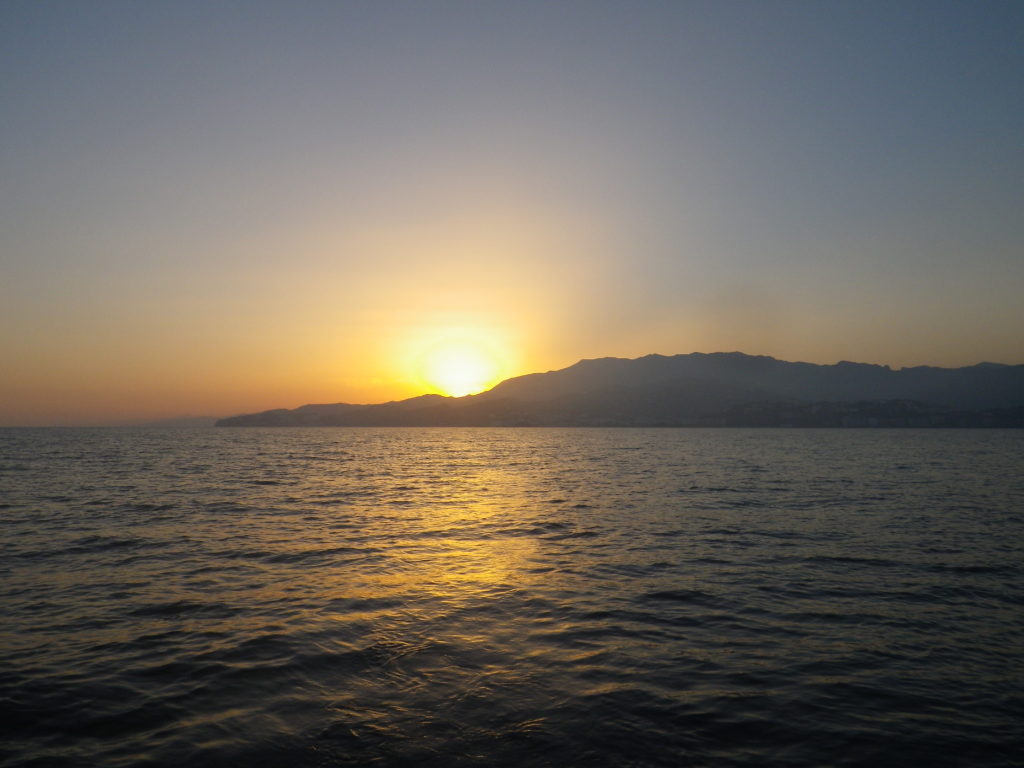 Under the stars
Another advantage was that the wind was still decent, so we were even able to squeeze 2 hours sailing out of it starting from when we left around 9pm. I was pretty knackered from the day, so I went to sleep at 10 while Jon stayed up till 12. I then got up to do another 2 hour watch, and so on till we got daylight.
My first watch was pretty good: it took me about 15 minutes to properly wake up but some stretching exercises behind the wheel did the trick. It was pretty quiet: no boats in our vicinity and no major weather changes. Towards the end of my watch I heard a splashing sound that was different from the regular waves crashing on the bow. I saw something lightly coloured moving on port side, just under the water surface – and out jumped a dolphin. There were a few of them jumping around until they disappeared in the distance. Pretty special.
I managed to sleep quite well in between watches and before I knew it it was time for the second watch, from 4 am to 6 am. In the dark, I could see a bright light just above a lighthouse in the distance. It was very hard to see whether this was something in the hills above the lighthouse or a light on the mast of a boat nearby. If it was the latter, that boat was getting pretty close… The light was definitely moving up in the sky which meant it was getting closer. I almost woke Jon to ask if he thought it was a vessel or not, but I finally realised it was actually very, very far up in the sky: either a star or maybe a planet? It was rising quite quickly though. Not having ever paid much attention to astronomy I don't know if it's normal that stars and planets move so fast? In any case, the coast was clear.
I was hoping to see a beautiful sunset but only at 5.30 did I get to see a slight lightening of the sky and it took at least another hour before the sun appeared. There were also low hanging clouds so you couldn't even see it come up. I am sure there will be more dazzling sunrises to come.
Early arrival
We had been on the engine most of the night and towards 6 am we were only a few miles from the marina. A nice little head wind was starting to come up and as we felt it would be more convenient to arrive during office hours, we decided to get back on the sails which took us on a tack out to sea and gave us a nice heading to sail into the marina. Around 8.30 we arrived at the marina, moored onto the visitor's dock and checked in. We had heard positive reviews of Almerimar and our experience has als been really good: over 1000 berths, lots of amenities and above all, very friendly and helpful marina staff. They spoke very good English, French, a little bit of German and Dutch and after Jon mentioned that he was from South Africa, one employee said he could also speak a bit of Zulu 'but it's very difficult' 🙂   The rest of the day we were a bit sleep deprived, but still managed to check out the boat yard, the shops and the rest of the marina. It's quite spacious and there are many roads so our folding bicycles will come in very handy